DW Kanye West Debuts At Paris Fashion Week 

We need to take into consideration that Kanye West, he had made several attempts in the fashion industry before Yeezy became a household name, most notably 9 years ago with the debut of Dw by Kanye West named after his late mother, Donda West. However, the critics did not give 'Ye an easy out. "Kanye West's collection was so Givenchy-esque that it's embarrassing that Givenchy designer Riccardo Tisci was an expected guest," wrote the Wall Street Journal's Christina Binkley in her review.
Naturally, West hit back with a signature rant at the show's afterparty. "This is my first collection. Please be easy. Please give me a chance to grow. This is not some celebrity shit. I don't fuck with celebrities. I fuck with the creatives in this room, the amazing people who spend every day of their life trying to make the world a more beautiful place. The number of people that tried to get me a celebrity fucking deal. They said, 'You need to do boot-cut jeans, or you won't sell.' Shut the fuck up!"
Despite this, his fashion show came to be the most hyped of the entire spring 2012 season, creating expectations that are often impossible to live up to, even for trained, established designers but it, unfortunately, lasted for just two seasons, funded solely by the rapper-turned-designer, and was ultimately shuttered without the backing of a larger brand.
Kanye outlines his frustrations with the fashion industry during an interview On BBC Radio 1 With Zane Lowe 
In this extensive and endlessly talked-about interview with Zane Lowe, West expanded at length on the ideas from "Black Skinhead," articulating his frustrations and gripes with the fashion industry in great detail. Over the course of an hour, he made the case for why he deserved the chance to design a full collection, not simply collaborate on one-offs. He explained to Zane Lowe that in traditional celebrity endorsement deals, the celeb's input on the products themselves usually amounts to nothing more than "patina," and took shots at the empty "creative director" titles celebrities are often given.  By contrast, he said he has so more to offer to brands, and to the world, as an actual designer of products, from high school basketball uniforms to film.
"I want a joint venture the way Stella McCartney has," he told Lowe. This was the first time West expressed his feeling that he couldn't impact culture with fashion without the support of a mega-corporation like Adidas to back his mega aspirations. (He told Lowe he hopes to eventually be "the anchor of the first trillion-dollar company.") He said that without a large corporation's infrastructure, the most he would be able to design would be T-shirts, likening his limitations to the time before Rocafella gave him a record deal. "Me doing the Yeezys and not having a joint venture with Nike the next day would have been like if I made 'Jesus Walks' and then wasn't allowed to make an album," West said. "There's a reason I was the only rapper allowed to design a shoe with Nike," he stated, "which means there has to be another step. It has to keep going. People didn't love the Yeezys the way they did for no reason."
Kanye Reveals He Previously Designed Sneakers for Giuseppe Zanotti and Balmain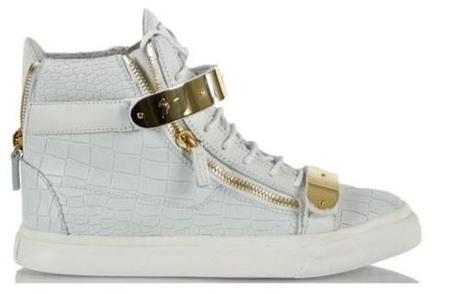 In an interview with Los Angeles-based 97.1 Amp Radio, Ye revealed that he had worked on sneakers for high-end fashion labels without previously taking any credit.
"I designed the [Giuseppe] Zanotti sneakers and people don't know that. I designed Balmain sneakers and people don't know that," he said to demonstrate his authenticity and to be taken seriously as a legitimate voice in the fashion industry.
West Leaves Nike For Adidas 
2013 was the year Kanye began his battle to be recognized in the corporate world. His album Yeezus was him at his most anti-establishment with songs like "New Slaves," but the drive really can be pinpointed to his frustration with Nike for only being interested in his name, not his ideas. By the end of the year, West had moved over to Adidas who have allowed him to be one step closer to creating a trillion-dollar fashion business!
A.P.C. X KANYE WEST
Before West presented us with Yeezy season 1, he already had two collaborations with French brand A.P.C. underway. Released in 2013 and 2014, his first ready-to-wear collection with the line included rugged denim pieces, pants, shirts, sweaters, coats, and even accessories.
YEEZY SEASON 1
In early 2015, after a couple of years attending rather shows, the rapper returned to the fashion week scene, this time in New York launching his Yeezy line. With this came a few now-signature aspects, as it was a striking stagnant presentation which used relatively unknown models and mixed neutral basics with athleisure. And it was from this moment that athleisure wear became one of the biggest trends of the decade, all thanks to MR West!
YEEZY BOOST
To date, no shoe has been more successful or (in)famous than the Yeezy Boost. Especially in 2015 and 2016. They retail for between $200 and $350, but because they are so limited, people often resell them for ridiculous prices and make an enormous profit.
PABLO POP-UP SHOPS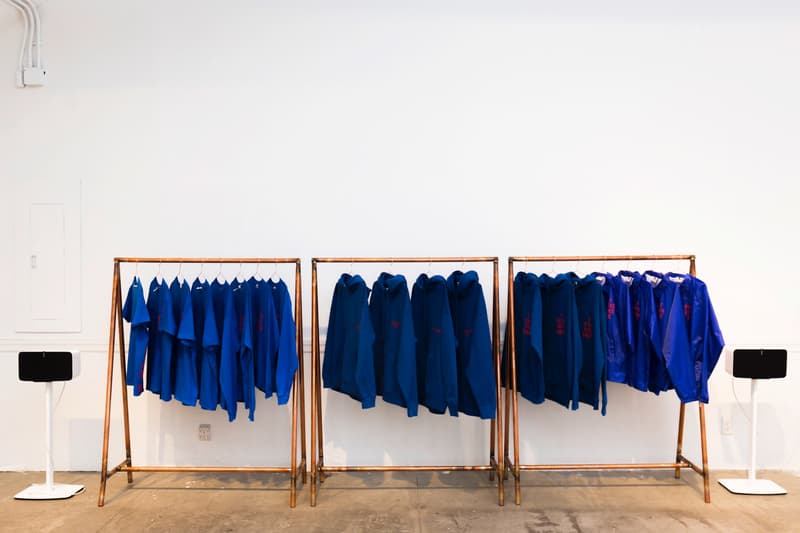 The rapper's 2016 album, The Life of Pablo, came when interest in his fashion endeavours were at it's highest, so he capitalized on this through limited-edition merchandise, which sold at his tour stops as well as 21 temporary stores.