I have to admit that when Dad Sneakers first surfaced I HATED them with a passion, I just could not understand why anyone would ever think to design and then approve the production of such ugly trainers and think it was okay. Fashion is meant to be nice and these were ugly so I was confused af. Like literally, I thought all sorts of crimes of fashion were being committed and never did I ever think that I would wear them or be writing a blog post about how much I love them but here we are. Isn't the world just full of surprises? I feel like they are the sort of thing that you have to see a million times, styled in a million different ways in order to learn to love them because for me the more I see something the more I learn to like it. There's just something about ugly shoes that make you love them and I really wish I knew what it was because maybe It would help me come to my senses.
"I think these [luxury] houses took a long look in the mirror and realised that they were doing some things wrong and that culture was moving against them," says Trunzo. "The tides were turning and they have to embrace what is going on, on a street level."
This statement is so powerful in explaining how times are changing and how streetwear is taking over fashion and that if luxury brands aren't up to date with this new generation they will eventually become irrelevant. This is why they are making these 'ugly' trainers – because they want to remain mainstream, trainers are no longer just sold by sports brands, anyone who is anyone sells sneakers in this era.
I personally think Dad Sneakers are fun, vibrant and so 90s. If you know me you know I am OBSESSED with 90s fashion! What is there not to love about the 90s? To me, it was the foundation of young peoples style and a turning point for fashion in so many ways, I could literally go on and on about it. The revival of this trend only goes to further prove my point that trends keep coming back better than ever and people are loving it, so forget the classic trainers, don't be boring, go crazy with your style, be bold and get yourself a pair of 'ugly' trainers. Big soles, bright colours, bold logos and bulbous shapes are the only way to go this year when it comes to your sneaker choices!
Here are some of my favourite;
Balenciaga Triple S – black verision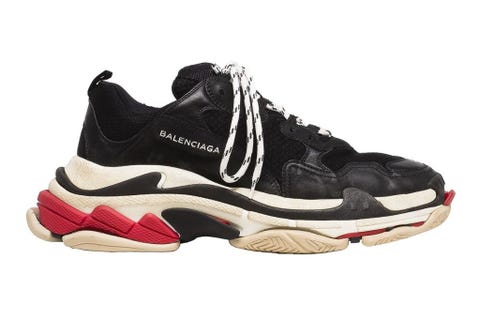 Stella Mccartney 
Eclypse trainers