Some people want to go to the Maldives but I have always wanted to go to the Seychelles. I feel like most people don't actually know or have ever of this beautiful archipelago of islands in the Indian Ocean, off East Africa. This is literally one of Africa's many hidden treasures. The Seychelles is a nation of 115 islands scattered over 400,000sq km surrounded by crystal clear blue waters. The islands were once known as a five-star destination with three-star hotels but fast forward to now and that's far from the truth, new-look Seychelles offers areas of outstanding man-made beauty and the best of luxury!
Because each island in the Seychelles is very different, many visitors choose a two or three-stop holiday.
THINGS TO DO IN SEYCHELLES
BIRD ISLAND

Bird Island is situated about 60 miles from the main island of Mahe, and is easily reached by plane. Its 170 acres are covered in corals and lined with the purest white sand.
COUSINE ISLAND
A speck about 6km off the west coast of Praslin, Cousine Island is owned by a South African businessman, who has embarked on an intensive conservation programme to restore it to its primal state. About 2,000 indigenous trees have been planted, and 12 endangered magpie robins have been introduced to share the island with a couple of thousand nesting birds (fairy terns, sooty terns, shearwaters, Seychelles brush warblers, Fodies) and four giant tortoises (each of which, apparently, command around the same market value as a giraffe). Much of the rocky island is out of bounds to visitors.
FREGATE ISLAND
There are wonderful walks to be had on Frégate – through primeval jungle, up enormous granite outcrops and along white-sand beaches. Away from the resort, the rest of the island is given over to conservation projects (protecting the endangered magpie robin population, among others), cultivation (vegetables produced with a very sophisticated hydroponics system), livestock (pigs, cows, chickens) and recreation (water sports and scuba-diving; fishing boats, yachts, catamarans and motorboats).
LA DIGUE ISLAND
The island's stunning beaches of silky white sand are lapped by turquoise seas. The best beach, Anse Source D'Argent, is reachable by bicycle. Other good places to swim are Petite Anse, with its large smooth boulders. La Digue's west coast, south of La Passe, is protected by a reef, creating calm water, ideal for snorkelling. Besides the pleasures of beach life, La Digue offers horse riding, diving, fishing and boat trips. The bird sanctuary is a woodland of takamaka and badamie (Indian almond) trees, home to several nesting pairs of the rare, endemic black paradise flycatcher. Horse riding is available at L'Union Estate and diving instruction, expeditions and boat trips to tiny Félicité Island (population 12) can be arranged at La Digue Island Lodge.
MAHE ISLAND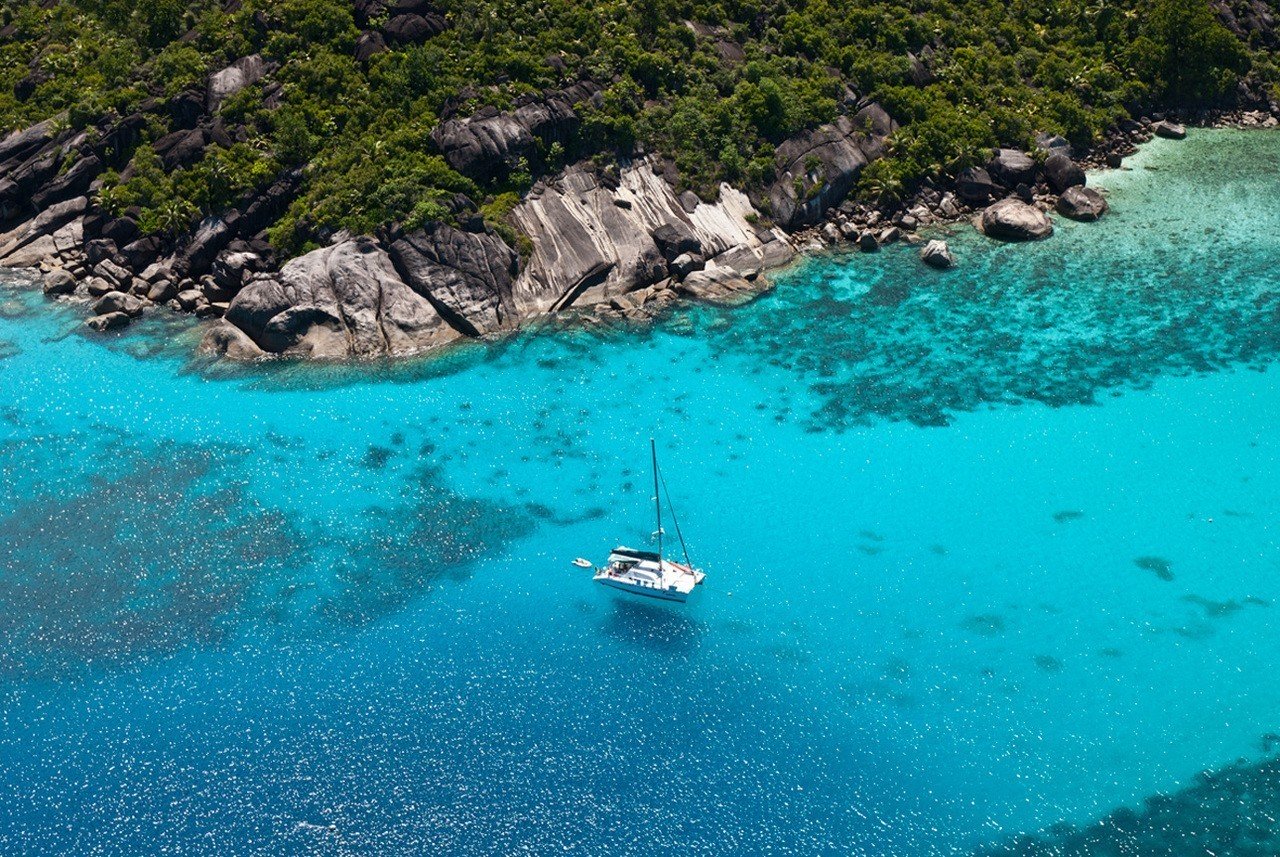 Mahé is the largest island, and home to 65,000 people. It has the highest mountain ranges in the Seychelles and the world's smallest capital, Victoria. For a stylish souvenir, Michael Adams, Seychelles' most famous artist, has a studio/gallery at his home at Anse aux Poules Bleues (00 248 361 006; michaeladamsart.com).
PRASLIN ISLAND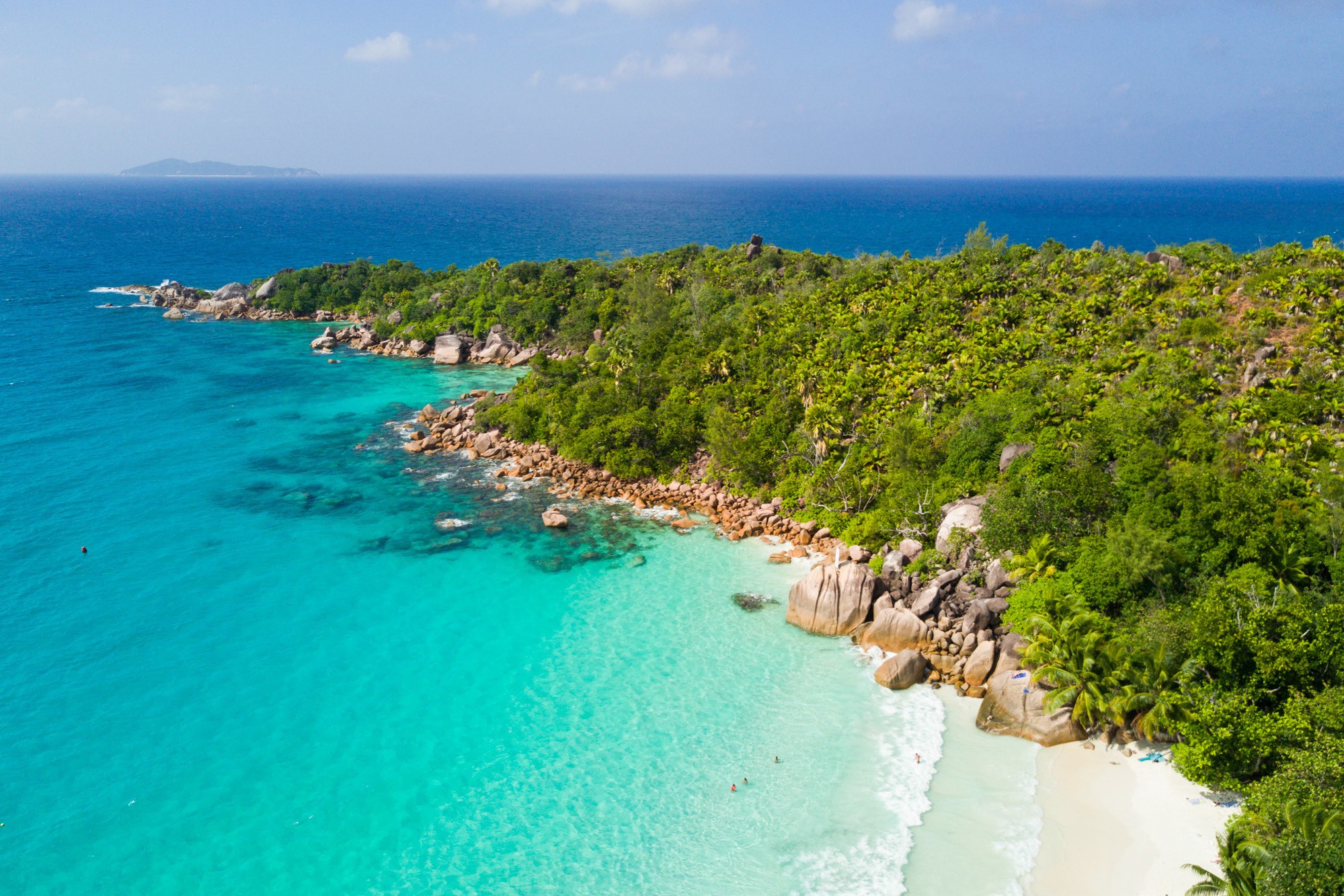 The archipelago's second-largest island is a 15-minute plane hop from Mahé. It is most famous for the Vallée de Mai (open 8am-5.30pm), a World Heritage Site home to the distinctive coco de mer palm. It is a fascinating, friendly and unspoilt island to explore by foot, bicycle or hire-car. A number of excursions, including cruises, bird-watching and photographic expeditions are available from both Mahé and Praslin.
Where to stay;
North Island, a Luxury Collection Resort
Set on the private North Island in the Seychelles, this exclusive hotel offers 11 villas  along the islands beautiful beaches. The Spa on North Island boasts the use of natural herbal ingredients found on the island, while the various dining options allow you to enjoy the island's harvest. Villas start from €7,046 (£6,195). All-inclusive. Free Wi-Fi. Children under 17 stay free, however, those between the ages of 17 and 19 years old are charged at €773 (£680) per night.
In addition to the 30-minute complimentary welcome treatment at the spa, guests of North Island benefit from various activities and services included with their stay. These include scuba diving courses and activities, snorkelling in and around North Island, sunset cruises, guided walks and the use of stand-up paddleboards, sea kayaks and bicycles. Guests can join in on the group morning yoga class and set out on a shore-based or half-day fishing trip. The use of one island buggy is available per villa.
Tell me that doesn't sound like the dreamiest of holidays.